Visa: "Always mobile, always on" Hong Kongers are inseparable from their smartphones when travelling overseas
07/26/2018
• Nearly all Hong Kongers (97 percent) go online while traveling overseas, and rely heavily on mobile phones (68 percent) for travel information during their trips
• 22 percent of Hong Kong travelers used contactless mobile payments abroad, more than their counterparts regionally and globally at 18 percent and 15 percent respectively
• New Visa Concierge mobile application caters to Hong Kongers' mobile-led travel needs with bespoke offers in 15 top travel destinations
"Always mobile, always on" Hong Kong travelers rely on their smartphones not only in accessing online information during their trips, but increasingly paying for goods and services via mobile contactless payments, the highest percentage in Asia Pacific and the world, according to the latest Visa Global Travel Intentions Study (GTI).1
Hong Kongers' reliance on mobile information is most pronounced in how almost all Hong Kong travelers (97 percent) access online information at destinations, among the highest in the world, and higher than the global average of 88 percent.

The "always mobile, always on" habit merges seamlessly from home to destination: Seven in ten (69 percent) Hong Kong travelers use their mobile devices to research and plan their trips, similar percentage continue to rely on their smartphones to access information at destination (68 percent). While at destination, social networking websites and search engines are the top two sources of information.

22 percent of Hong Kong travelers used contactless mobile payments2 abroad, more than their counterparts regionally and globally at 18 percent and 15 percent respectively.

Caroline Ada, Visa General Manager, Hong Kong and Macau: "Hong Kong already has the highest penetration of Visa contactless payments made via mobile devices in Asia Pacific, accounting for one in ten of face-to-face transactions.3 It comes as no surprise that Hong Kong travelers continue to pay with their smartphones abroad, given the convenience and security, as well as the truly global acceptance, of Visa contactless payments."

The GTI Study shows that Hong Kongers are motivated by the "reward" of traveling, more so than their global counterparts. For example, 47 percent of Hong Kong travelers cited "switching off and relaxing" as among the top reasons for vacationing, compared to 32 percent of global travelers.
Visa Concierge app brings a myriad of offers and travel tips
Given the "always mobile, always on" tendency of Hong Kong travelers, Visa launched its new Visa Concierge mobile app that enables Visa cardholders4 to access a host of exclusive privileges at premium establishments in the top 15 travel destinations worldwide5 from the convenience of their mobile devices. Supported by real-time concierge staff, the app is available for download on iOS App Store and Google Play Store. Customers can also call, live-chat and email to arrange bespoke services for their travels, for instances, requests such as price comparison on specific luxury item – price comparison being a web or app function that one in two Hong Kong travelers (51 percent) find most useful when planning their travel – or even detailed itinerary for a culinary getaway in Tokyo.

In addition to travel-related offers, Visa Concierge app comes with a full range of concierge services, such as shipping or courier, booking tickets for musical, and arranging transport services, personalizing a first-class customer experience at every touchpoint.
For offer highlights in various cities including Hong Kong, please refer to the appendix. Terms and conditions apply.

1 The Global Travel Intentions (GTI) Study analyzes travel behavior and tourism spending patterns of global travelers. A comprehensive study monitoring and analyzing international travel trends and consumer travel behavior, the Study is part of Visa's continued commitment to helping industry players in their pursuit of growth in the global travel and tourism industry. Visa's GTI Study was conducted in conjunction with research and business intelligence firm ORC International and collected data over the course of 15,500 interviews in 27 markets. Visa has been conducting this biannual study since 2008. For more information about Visa's Global Travel Intentions Study, visit Visa.com/TravelStudy.
2 Contactless mobile payments are defined as near-field communications or NFC transactions made via Android Pay, Apple Pay, Google Wallet, and Samsung Pay.
3 Source: VisaNet, April 2018. Contactless payments made by mobile wallets, such as Apple Pay and Android Pay, as percentage of total domestic transactions
4 Visa Platinum, Visa Signature or Visa Infinite cardholders
5 Bali, Bangkok, Brisbane, Hong Kong, London, Manila, Melbourne, Mumbai, New York, Paris, Seoul, Shanghai, Singapore, Sydney and Tokyo
About Visa Inc.
Visa Inc. (NYSE: V) is the world's leader in digital payments. Our mission is to connect the world through the most innovative, reliable and secure payment network - enabling individuals, businesses and economies to thrive. Our advanced global processing network, VisaNet, provides secure and reliable payments around the world, and is capable of handling more than 65,000 transaction messages a second. The company's relentless focus on innovation is a catalyst for the rapid growth of connected commerce on any device, and a driving force behind the dream of a cashless future for everyone, everywhere. As the world moves from analog to digital, Visa is applying our brand, products, people, network and scale to reshape the future of commerce. For more information, visit usa.visa.com/aboutvisa, visacorporate.tumblr.com and @VisaNews.
Appendix: Screenshots of Visa Concierge App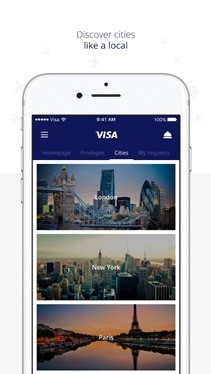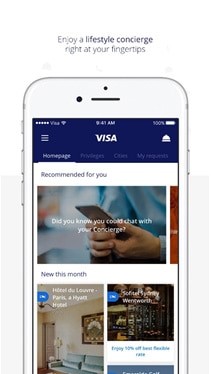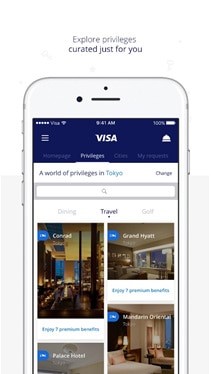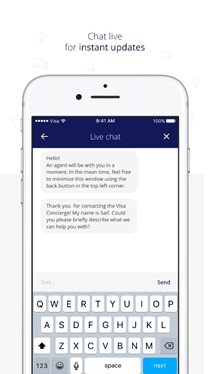 The App is downloadable on iOS App Store and Google Android Store, search "Visa Concierge" to download the app. Register with your Visa card and keep up with Visa's attractive offers.
Visa Concierge app exclusive offer highlights (bookings must be made via Visa Concierge):
Hong Kong

Cucina

Michelin starred restaurant at Marco Polo Hong Kong Hotel
Enjoy 15% discount (food only)
Complimentary welcome drink
Greetings from the Restaurant Manager
Valid until March 1, 2019

Aqua

Award-winning restaurant serving fusion of Italian and Japanese cuisines
Complimentary welcome cocktail
Complimentary glass of prosecco for birthday celebration
Greetings from the Head Chef/ Restaurant Manager
Valid until June 30, 2019

Grayline - Hong Kong Airport Express Round Trip Ticket

Up to 50% discount on Hong Kong Airport Express round-trip ticket purchase (Tickets must be purchased via buys.hk)
Valid until September 30, 2018

Chung Hwa Book Co.

Offer: HK$20 off upon HK$100 spending by Visa contactless payment at all Chung Hwa Book Outlets at Hong Kong International Airport (5 outlets)
Valid until September 30, 2018

Bangkok

SO Sofitel Bangkok

10% off best flexible rate or
VIP amenities and complimentary breakfast
Valid until December 30, 2018

La Bottega di Luca

Restaurant serving traditional Italian food in a beautiful setting
Complimentary glass of prosecco
Greetings form the Chef
Tour of the kitchen
Valid until December 31, 2018

Singapore

Follie Follie

Enjoy 30% off $500 and above purchase of regular priced items
Valid until December 31, 2018

Sofitel Singapore Sentosa Resort & Spa

10% off best flexible rate or
VIP amenities and complimentary breakfast
Valid until December 30, 2018

London

Galvin Green Man

Restaurant boasts a premium and comprehensive menu created and curated by Michelin-starred chefs
Complimentary glass of champagne
Valid till Feb 28, 2019

Sofitel London St. James

10% off best flexible rate or
VIP amenities and complimentary breakfast
Valid until December 30, 2018
Terms and conditions apply.