Visa and Hong Yip join hands to enable digital payment acceptance, bringing convenience to over 100,000 residents
03/29/2023
The residents will now be able to pay their property management fees using Visa and eligible Visa cardholders will also be able to earn rewards.
Integration of Visa loyalty solution enables Hong Yip to expand its digital-first customer engagement ecosystem and brings convenience for its residents.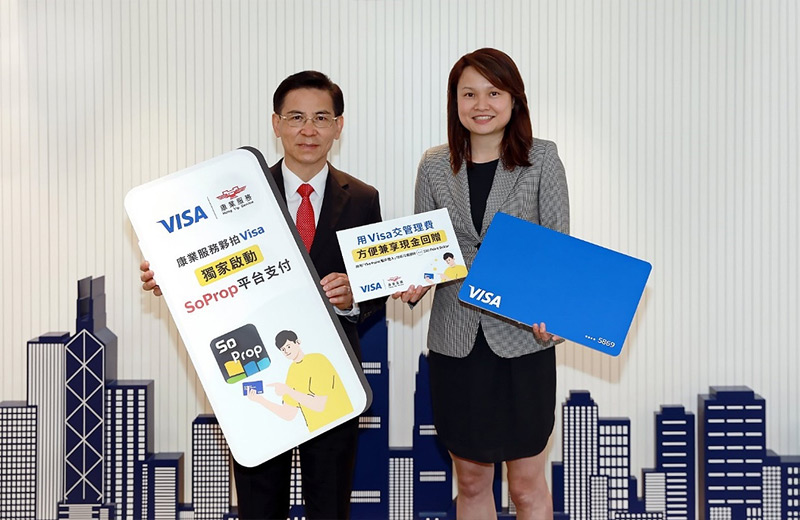 Visa, the world's leader in digital payments, today announced its collaboration with Hong Yip Service Company Limited ("Hong Yip"), an innovative property and facilities management company, to empower over 100,000 residents at more than 100 residential complexes with the option to pay for their property management fees with Visa. Through this partnership, Visa will support Hong Yip in debuting digital payments on Hong Yip's SoProp mobile app, a self-developed application that provides real-time information and estate notices, and facilitates the booking of clubhouse and estate activity for its residents through an all-in-one customer touchpoint.
With connectivity defining our daily lives, customer demand for convenient digital services is growing across all industries. In the property sector, providing digitalized payments is a core component of a seamless journey. According to Visa's Consumer Payment Attitudes Study 4.0: Payments Outlook1, with the boom in multiple payment methods and introduction of new technologies, more than two-thirds of consumers expressed that they wish to use any payment option regardless of merchant and ticket size.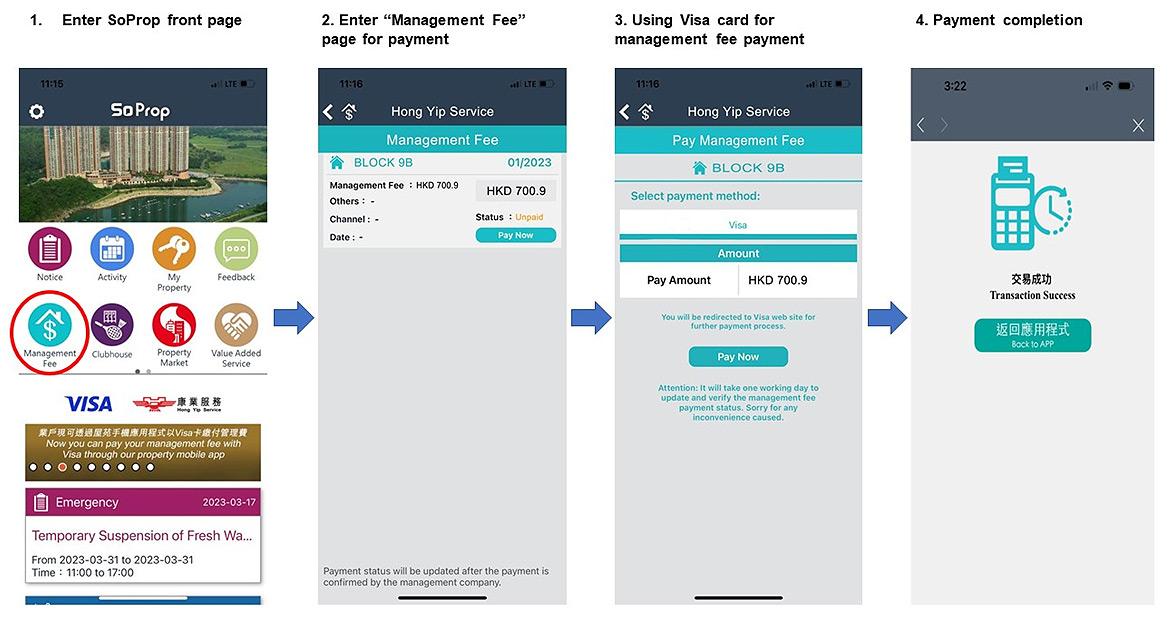 To celebrate the collaboration, eligible Visa cardholders will be able to enjoy a one-time HKD 50 cashback offer on their Visa card upon paying cumulative property management fees up to HKD 3,000 via the SoProp mobile app, from April 1, 2023 to July 31, 20232 ("Promotional Period"). To enjoy the rewards, Hong Yip's residents can now download the SoProp mobile app to settle their property management fees after binding their Visa card to the app. In addition, during the Promotional Period, residents of designated housing estates can receive $50 extra Point Dollar upon activating their The Point account via the "Login with The Point" function in the SoProp mobile app for the first time.
Melissa Goh, Head of Merchant Sales and Acquiring, Visa Hong Kong and Macau, says: "Enabling digital payments for Hong Yip and supporting its building of a mobile-first customer service ecosystem testifies to our commitment to enhancing Hong Kong's digital economy. Visa's vision is to contribute to an inclusive payment network where consumers can conveniently make everyday transactions anywhere, not only limited to property management, but also in the sectors of transportation, quick service restaurants, education and beyond. We are ready to continue empowering payment acceptance for partners and merchants via our global trusted network that connects and uplifts economies across the world."
Alkin Kwong, Chairman and Chief Executive, Hong Yip Service Company Limited, says: "With the rise of digitalization, we have been constantly exploring options to elevate our residents' quality of life with a technology-enabled and mobile-first customer service ecosystem. Launching in-app digital payments with Visa is an integral step in moving our users towards a seamless one-stop property management experience. Sharing our parent company Sun Hung Kai Properties' core value of 'Building Homes with Heart', we are committed to delivering professional and premium quality services to our customers. As a champion of proptech, we look forward to bringing new innovations and services to our customers with trusted partners like Visa."
This card-linked offer is fortified by Cybersource's payment acceptance solutions and powered by Visa Loyalty Platform Services (VLPS), one of Visa's loyalty solutions that enhance the ability of partners to engage their customers through cashback rewards and supports the building of a digital ecosystem. Leveraging Visa's solutions and network, merchants can easily create and maintain lasting relationships with their consumers.
_________________________________________________________
1 Visa's Consumer Payment Attitudes Study 4.0 polled 700 consumers in Hong Kong, 350 consumers in Macau, 1,000 consumers in Taiwan, and 2,000 consumers in Mainland China across the ages 18-55 years old, with a minimum of HKD 5,000, MOP 5,000, NTD 5,000 and CNY 5,000 monthly household income per month. Online interviews and face-to-face interviews were conducted during the period of September – October 2022.

2 Cardholders can earn $100 RewardCash when they pay for their transaction of HKD1,000 or above using Visa Instalments, and/or an extra $100 RewardCash when they set up a new merchant instalment (including the use of Visa Instalments) of HKD1,000 or above for the first time. Terms and conditions apply.
---
About Visa
Visa is a world leader in digital payments, facilitating transactions between consumers, merchants, financial institutions and government entities across more than 200 countries and territories. Our mission is to connect the world through the most innovative, convenient, reliable and secure payments network, enabling individuals, businesses and economies to thrive. We believe that economies that include everyone everywhere, uplift everyone everywhere and see access as foundational to the future of money movement. Learn more at Visa.com.
About Hong Yip
Established as a wholly owned subsidiary of Sun Hung Kai Properties Ltd. (SHKP) in 1967, Hong Yip Service Company Ltd. remains one of Hong Kong's foremost specialist property and facilities management companies. We are now managing around 1,600 individual building blocks, ranging from private estates and luxurious houses, commercial and industrial buildings, shopping centres, to government and school facilities. Sharing SHKP's commitment to "Building Homes with Heart", Hong Yip aims to provide ultimate management service with the integration of innovative technology and environmental protection management. Hong Yip will continue to provide a better living environment, to create a better lifestyle, and to build a better community for customers to enjoy.