Visa celebrates women entrepreneurs in Hong Kong on International Women's Day 2020
03/09/2020
Visa introduces the Hong Kong edition of She's Next, Empowered by Visa to support the advancement of women-owned small and medium businesses in the city
Visa, the global leader in digital payments, celebrates International Women's Day (IWD) this year with the soft launch of She's Next, Empowered by Visa, in Hong Kong, to support female founders as they fund, run and grow their businesses.
The She's Next, Empowered by Visa initiative aims to boost women-owned businesses around the world through shared research, experience and technologies. Since its launch in North America and Africa last year, the program has hosted workshops in six cities, from New York to Cape Town, to connect like-minded women entrepreneurs with industry experts for education, inspiration and networking opportunities to help them build out their entrepreneurial visions.
Maaike Steinebach, General Manager, Visa Hong Kong and Macau: "This year's IWD theme of 'each for equal' resonates with Visa's belief that through economic empowerment of women, we can have a more equal society. As a company, we have the network and resources through which female founders can tap into."
For the Hong Kong edition of the program, Visa will engage with local founders and partners in identifying key challenges to overcome together, through in-depth research into the state of women entrepreneurship, and year-round quarterly educational and networking pop-up events.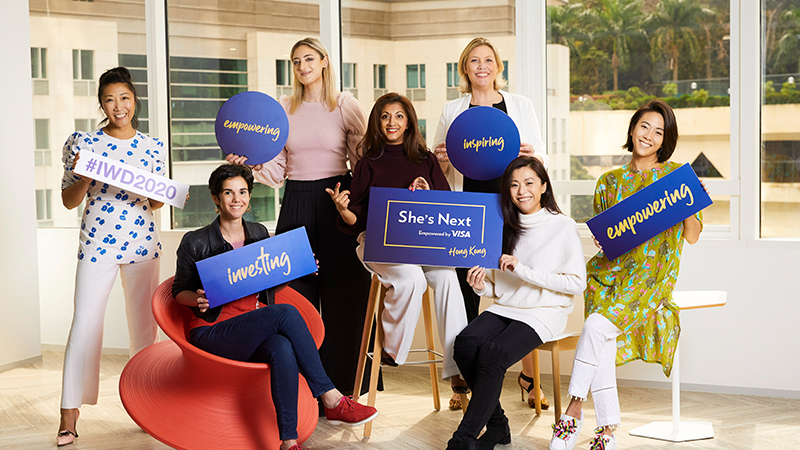 Visa celebrates International Women's Day 2020 with leading female founders of Hong Kong.
From left to right: Sarah Fung, founder and CEO, HULA.com; Karen Contet Farzam, Co-founder, WHub.io & AngelHub.io; Diane Younes, founder, Sponge; Kirti Lad, founder and Executive Director, Meraki Executive Search & Consulting; Maaike Steinebach, General Manager, Visa Hong Kong and Macau; Peggy Choi, founder and CEO, LYNK; and Natalie Chan, founder and CEO, OWN Academy.
About Visa Inc.
Visa Inc. (NYSE: V) is the world's leader in digital payments. Our mission is to connect the world through the most innovative, reliable and secure payment network - enabling individuals, businesses and economies to thrive. Our advanced global processing network, VisaNet, provides secure and reliable payments around the world, and is capable of handling more than 65,000 transaction messages a second. The company's relentless focus on innovation is a catalyst for the rapid growth of digital commerce on any device, for everyone, everywhere. As the world moves from analog to digital, Visa is applying our brand, products, people, network and scale to reshape the future of commerce. For more information, visit About Visa, visa.com/blog and @VisaNews.