Visa Survey: Eight in ten Hong Kong commuters considered switching to new cashless payment methods if the incentives are right
09/18/2018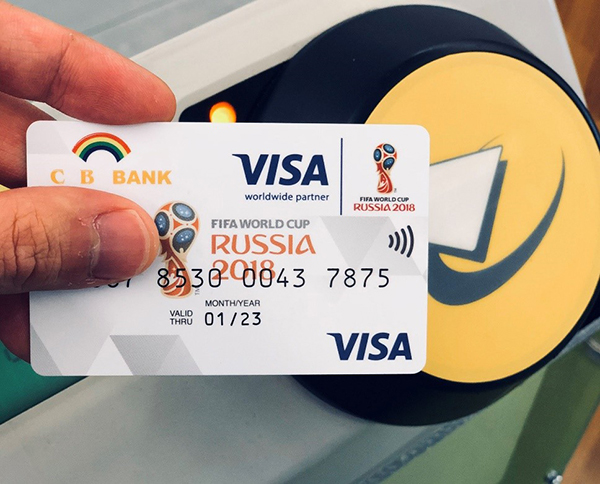 London is among the first global cities to implement system-wide contactless payment acceptance. Here a Myanmar-issued prepaid Visa card is being used in the London Underground.
The majority of Hong Kong commuters (86 percent) are willing to break the current transit payment habit and switch to new methods that come with incentives, such as cashback and loyalty reward points, according to a recent Visa survey.1
The survey, which examines Hong Kong commuters' perceptions and preferences in public transport, found that commuters will choose to pay with contactless mobile wallets (44 percent), contactless credit cards (40 percent), and QR code payments (15 percent) apart from current payment method if it meant they would be able to receive offers and benefits traditionally associated with retail banking products.
Paul Jung, Visa Head of Products, North Asia: "Given Hong Kong's mature financial services sector, commuters expect more than just fast, secure and convenient payments at transit gates. The recent Visa study shows that they want to be able to earn reward points, cashback and even mileages when paying for their subway and bus rides."
Contactless payments are widely used and accepted in Hong Kong, accounting for 43 percent of total face-to-face Visa transactions; The city ranks fifth in Asia Pacific in term of usage.2 Hong Kong also has one of the highest penetration levels of Visa contactless payments made via mobile devices in the world.3
When it comes to paying at gates, Hong Kong commuters are most conscious of price (65 percent), speed of transaction (64 percent), security (57 percent), and the ability to pay as one goes or not having to top up (35 percent).
The biggest pain points related to their commutes are transit cards running out of values when used (55 percent), long queues at fare gate during rush hour (50 percent), and extra time spent to top up stored value cards (40 percent).
Mr. Jung added: "With high consumer expectations, lingering commuter frustrations, and a market already familiar with contactless payments, it is to Hong Kong's benefits to implement open payment ecosystem in mass transit, just like other international cities such as London, New York, Sydney and Vancouver. A transit system, where all standardized payment methods are accepted, can help boost the experience of millions of daily commuters and travellers visiting Hong Kong."
In London, a city of 8.8 million,4 more than 2 billion journeys have been made by contactless cards and mobile devices across the capital since 2012, serving on average 17 million journeys a week.5 According to Transport for London, a transaction at gate should take less than 500 milliseconds (0.5 seconds) to complete.
1 The survey was conducted by YouGov on behalf of Visa in the period between 24 - 27 August 2018 in Hong Kong; 1,019 respondents participated in the survey.
2 Source: VisaNet April 2018; Behind Australia, New Zealand, Singapore and Taiwan, respectively.
3 Ibid. As percentage of total face-to-face transaction
4 As of 2016: https://www.trustforlondon.org.uk/data/londons-population-over-time/
5 Source: "Half of all Tube and rail pay as you go journeys across London using contactless," Transport for London: https://tfl.gov.uk/info-for/media/press-releases/2018/april/half-of-all-tube-and-rail-pay-as-you-go-journeys-across-london-using-contactless
About Visa
Visa Inc. (NYSE: V) is the world's leader in digital payments. Our mission is to connect the world through the most innovative, reliable and secure payment network—enabling individuals, businesses and economies to thrive. Our advanced global processing network, VisaNet, provides secure and reliable payments around the world, and is capable of handling more than 65,000 transaction messages a second. The company's relentless focus on innovation is a catalyst for the rapid growth of connected commerce on any device, and a driving force behind the dream of a cashless future for everyone, everywhere. As the world moves from analog to digital, Visa is applying our brand, products, people, network and scale to reshape the future of commerce. For more information, visit usa.visa.com/aboutvisa, visacorporate.tumblr.com and @VisaNews.